Moving & Packing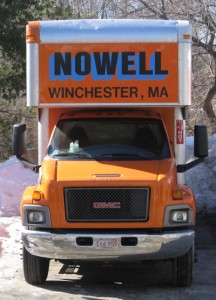 Moving
Our experienced crew specializes in local and statewide furniture moving. We provide high quality residential and commercial moving services. Having been in this industry for over eighty years, there is very little that we have not encountered. We take tremendous pride in being able to accommodate any sized moving job – nothing is too big or too small. We'll move the contents of an entire house/office across the Commonwealth or simply move a single piece across the room.
Having been located in Winchester, MA for so long, many of our customers are repeat or legacy moves. There is no better feeling than realizing that our company had previously moved someone's parents, grandparents, or even great-grandparents. It is also neat to recognize the face of an adult customer, knowing that we had moved them as a young child.
During every move, we'll cover your furniture with moving pads and disassemble/reassemble all needed items without any hidden costs or fees. To repeat, there are no hidden fees! Moving can be a very stressful process. However, one of our goals is to eliminate moving related stress through experience, hard work and patience. We never grow tired of fine-tuning or rearranging items to help turn your brand, new house into a home. We are also particularly skilled at dealing with the challenges of relocating an elderly parent or loved one and the patience and care that accompanies this responsibility. We offer unparalleled service in this regard.


Packing
To better provide you with a one stop moving experience, we also offer complete packing and unpacking services. Prior to your move, an experienced estimator will meet and discuss your packing needs and we will tailor our services to meet your individual needs. Our company can pack as much or as little as needed. A customer might request that we completely pack and unpack the entire contents of their home or they might request that we pack a single, family portrait. Using a full array of quality packing materials, our skilled personnel will carefully wrap, box and label your belongings.


Packing Supplies
Moving Boxes & Packing Supplies
We frequently stock and sell the moving boxes and supplies listed below. We also deliver to our local moving customers free of charge. Prices are subject to change based on changes by our supplier
Book Box (1.5 cu. ft.) $1.90
Lined Box (3.0 cu. ft.) $2.65
Dish Barrel (6.0 cu. ft.) $6.50
Wardrobe Box (lg. 1-pc.) $12.65
Mirror Box (2-pc. Expandable) $8.80
Packing Paper (25 lb.) $18.00
Tape $3.00